This version of Internet Explorer is
no longer supported by Microsoft
, and some features of our store will soon no longer be supported by this version of IE.
Please
upgrade
or use a different browser.
Attention customers on the US East Coast, please be advised of potential delays in delivery due to mandatory evacuation areas and the threat of Hurricane Florence disruptions. For specific details regarding this delay and how your specific zip code may be effected please visit
FedEx Service Alerts
and
UPS Service Updates
B041-A-120 - Related Videos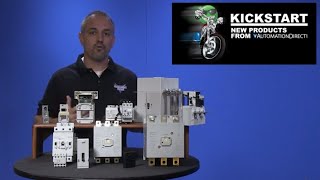 GH15 Motor Contactors Line Extension KickStart
(VID-MS-0001) - AutomationDirect's GH15 series of electric contactors now includes larger frame sizes. The new components are available in frames sizes of 79 mm to 145 mm and models are available up to 315 Amps. GH15 series IEC motor controls feature self-lifting pressure plate terminals for quick wiring terminations; actuator coils, in 110/220 V and 220/240 V, 60Hz models, accommodate most applications. Now available in IEC sizes ranging from B to TT, GH15 series contactors accommodate up to 250 Hp motors @ 460 VAC. Contactors are 35 mm DIN-rail mountable and panel mountable (larger sizes) to provide fast and easy installation. Backed with a one-year warranty, GH15 series contactors are CE marked, cULus listed, RoHS and REACH compliant. Prices for the GS15 series contactors start at $43.50.
View hundreds more available videos online, with more being added each month...
..