Our offices will be closed on Monday, May 28th in observance of Memorial Day
FedEx shipped orders placed before 6:00PM ET on Friday, May 25th will ship same day (if paid for by Credit Card or PO account in good standing & based on product availability). Orders placed after the Friday cutoff will ship on Tuesday, May 29th. Please see our
Business Policies
for earlier shipping cutoff times for drop-shipped items and shipping by other carriers.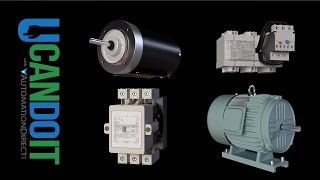 A/C Motor On/Off Controls for Industrial Applications - U Can Do It
(VID-MT-0002) - A brief intro to A/C Motor On/Off control for home or industrial applications. Check out the associated Tech Tip Videos to learn the details of each component and some helpful hints on how to get the most bang for the buck. Includes info on: motor starters, fuses, circuit breakers, contactors, overloads, surge suppression, reversing kits, wiring, and motors from a fraction of a horse power to hundreds of horse power.
View hundreds more available videos online, with more being added each month...