This version of Internet Explorer is
no longer supported by Microsoft
, and some features of our store will soon no longer be supported by this version of IE.
Please
upgrade
or use a different browser.
Attention Hubbell-Wiegmann Enclosure Customers: Please note that any lead-time enclosures purchased Monday, Oct 15th or Tuesday, Oct 16th will require 2 extra lead-time days in addition to the published lead-time shown in our store. Backordered items will also require an extra 2 days. This is due to production stoppage during their inventory process. We apologize for any issues this may cause. Stock items will ship normally.
D64080DT-MC - Related Videos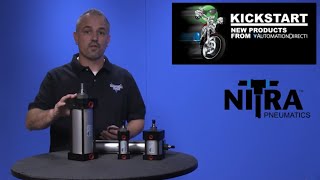 NITRA NFPA Cushioned Pneumatic Air Cylinders KickStart
(VID-PN-0002) - AutomationDirect's NITRA® pneumatic product line now includes D-Series double-acting heavy-duty air cylinders ideal for use where abusive conditions exist. These pneumatic air cylinders have a 250 psi operating pressure and are interchangeable with other popular brands. New models are now available with adjustable cushions to provide end-of-stroke deceleration at both ends.
View hundreds more available videos online, with more being added each month...
..