This version of Internet Explorer is
no longer supported by Microsoft
, and some features of our store will soon no longer be supported by this version of IE.
Please
upgrade
or use a different browser.
We will be performing maintenance on several web store related systems this weekend starting Friday, October 19th, at 9:00 PM ET and ending Sunday, October 21st at 9:00 PM ET. There may be brief outages and some store features may be unavailable periodically during this time. We regret any inconvenience this may cause.
126014 - Related Videos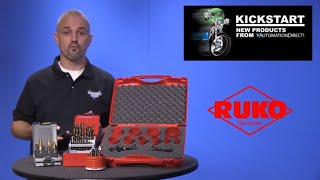 Drill Bits, Countersinks & Hole Saws by RUKO KickStart
(VID-TT-0002) - Today I am going to show you our new line of RUKO drill bits, countersinks and hole saws. AutomationDirect started carrying drill bits and sets almost two years ago and our product team keeps bringing you more and better tools at great prices.
View hundreds more available videos online, with more being added each month...
..