V50214-1 - Related Videos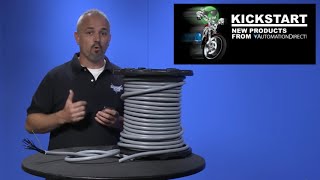 (VID-WD-0004) - AutomationDirect now offers flexible multi-conductor control cable available in sizes ranging from 18 to 10 gauge, with three to 41 unshielded conductors (including green/yellow ground). Individual stranded copper conductors feature black PVC/Nylon insulation and are marked with identification numbers. Fitted with a rugged premium grade PVC outer jacket, cables are flexible for easy installation and are available in 100, 250, 500 and 1,000-foot reels. Resistant to sunlight, oil, and moisture penetration, the cables are suitable for wet and dry locations and for indoor and outdoor applications. Multi-conductor flexible control cables are UL and CSA approved and RoHS compliant. When combined with AutomationDirect's line of ZipPort multi-wire connectors, these cables are an economical way to organize and simplify control wiring.
---
---

View hundreds more available videos online, with more being added each month...
---
BOM:
Length:
Qty:

Make the selected BOM default
..