Attention Hubbell-Wiegmann Enclosure Customers: The order deadline for same-day shipment of LTL (freight) orders is 3:00 pm ET. Small parcel orders ship until 4:00 pm ET.
011419-00 - Related Videos
---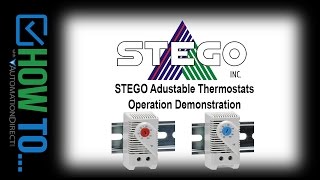 (VID-EN-0008) - In this video, we will demonstrate how the STEGO adjustable thermostats operate with Open on Rise and Close on Rise configurations.

View hundreds more available videos online, with more being added each month...
---
BOM:
Length:
Qty:

Make the selected BOM default
..