This version of Internet Explorer is
no longer supported by Microsoft
, and some features of our store will soon no longer be supported by this version of IE.
Please
upgrade
or use a different browser.
DV-1000CBL - Related Videos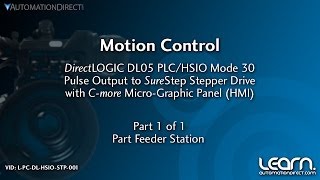 Motion Control - Part Feeder Station
(VID-MC-0014) - Looking for help integrating industrial control components into your next Motion Control application? In this video we show how an AutomationDirect SureStep Stepper System is used on a Part Feeder Station to rotate a slotted disk to dispense a combination of different colored glass marbles, brass balls, and steel balls, one at a time from a part hopper.
View hundreds more available videos online, with more being added each month...
..