This version of Internet Explorer is
no longer supported by Microsoft
, and some features of our store will soon no longer be supported by this version of IE.
Please
upgrade
or use a different browser.
AutomationDirect will be closed Monday, December 24th & Tuesday, December 25th to celebrate Christmas.
The same-day shipping on Friday, December 21st is our normal 6:00PM ET schedule (4:00 PM ET for freight and UPS shipments). Orders placed after the Friday cutoff times will ship on Wednesday, December 26th.
Y513 - Related Videos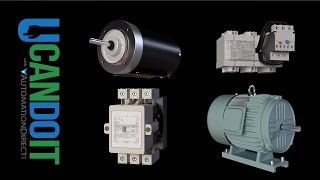 A/C Motor On/Off Controls for Industrial Applications - U Can Do It
(VID-MT-0002) - A brief intro to A/C Motor On/Off control for home or industrial applications. Check out the associated Tech Tip Videos to learn the details of each component and some helpful hints on how to get the most bang for the buck. Includes info on: motor starters, fuses, circuit breakers, contactors, overloads, surge suppression, reversing kits, wiring, and motors from a fraction of a horse power to hundreds of horse power.
View hundreds more available videos online, with more being added each month...
..