This version of Internet Explorer is
no longer supported by Microsoft
, and some features of our store will soon no longer be supported by this version of IE.
Please
upgrade
or use a different browser.
AutomationDirect will close at 3:00 PM ET on Wednesday, Nov 21st. We will also be closed on Thursday & Friday, Nov 22nd & 23rd, for Thanksgiving.
The shipping cutoff for same-day FedEx shipments on Wednesday, Nov 21st is 3:00PM ET. Freight shipments as well as customer pickups deadline is 1:00PM ET. There will be NO UPS shipping available on Wednesday. Orders placed after the same-day shipping cutoff times will ship on Monday, November 26th.
UV532GRN100 - Related Videos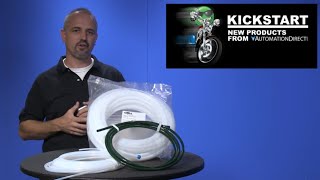 UV Stabilized Polyurethane & PTFE Pneumatic Tubing KickStart
(VID-PN-0004) - AutomationDirect has expanded its pneumatic tubing line to include UV stabilized polyurethane (PUR) and PTFE styles. NITRA tubing is made from the highest quality, 100% virgin raw materials available and has a hardness specification of Shore A 98.
View hundreds more available videos online, with more being added each month...
..