Attention Hubbell-Wiegmann Enclosure Customers: The order deadline for same-day shipment of LTL (freight) orders direct-shipped from Hubbell-Wiegmann in Freeburg, IL has temporarily changed to 3:00 pm ET.
The order deadline for same-day shipment of all other direct-shipped products, including small parcel orders from Hubbell-Wiegmann, will remain at 4:00 pm ET. We appreciate your patience as we work with our vendors to get this freight shipped order deadline restored to its original time.
106177 - Related Videos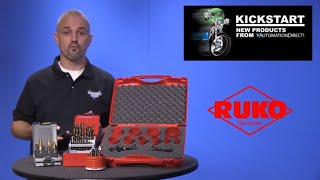 (VID-TT-0002) - Today I am going to show you our new line of RUKO drill bits, countersinks and hole saws. AutomationDirect started carrying drill bits and sets almost two years ago and our product team keeps bringing you more and better tools at great prices.

View hundreds more available videos online, with more being added each month...
---
BOM:
Length:
Qty:

Make the selected BOM default
..