7000-17311-0000000 - Related Videos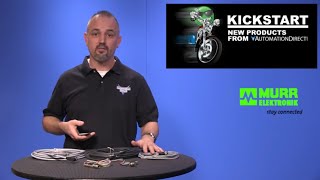 (VID-WD-0011) - AutomationDirect has expanded its sensor cable offering to include additional M12 cables, receptacles, field-wireable connectors, and bulkhead receptacles. Four-pole M12 cables are now available in two, seven, 10 and 15-meter lengths; the cables feature a polyurethane jacket for dependable use in oily and direct sunlight applications. Additional cables include 5, 8 and 12-pole unshielded version in 3, 5, and 10-meter lengths; 4, 5 and 8-pole shielded versions in 5 and 10-meter lengths are also available; cable prices start at $9. Also added are 4, 5 and 8-pole M12 receptacles in male and female versions. Starting at $7, receptacles are available in 0.5 and 1-meter lengths and the mounting nut is included. Additional field-wireable connectors include 5-pole and 8-pole connectors; 8-pole connectors are available in shielded and unshielded versions. New field-wireable connectors start at $17.50. M12 Bulkhead receptacles have also been added in 5 and 8-pole models, starting at $14.50. Cables, connectors and receptacles come with a one-year warranty and are RoHs compliant and CE and UL approved where applicable.

View hundreds more available videos online, with more being added each month...
---
BOM:
Length:
Qty:

Make the selected BOM default
..