This version of Internet Explorer is
no longer supported by Microsoft
, and some features of our store will soon no longer be supported by this version of IE.
Please
upgrade
or use a different browser.
Our offices will be closed on Monday, May 28th in observance of Memorial Day
FedEx shipped orders placed before 6:00PM ET on Friday, May 25th will ship same day (if paid for by Credit Card or PO account in good standing & based on product availability). Orders placed after the Friday cutoff will ship on Tuesday, May 29th. Please see our
Business Policies
for earlier shipping cutoff times for drop-shipped items and shipping by other carriers.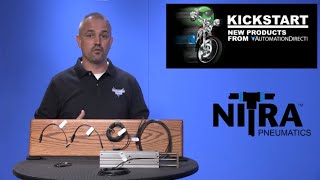 NITRA Pneumatic Cylinder Switches from AutomationDirect.com
(VID-PN-0033) - The NITRA® line of pneumatics products now includes nine styles cylinder switches, including round, dovetail, t-slot, square, and D-shaped; additional dovetail accessories are available to accommodate larger dovetail slots. The new styles are solid-state electronic pneumatic switches are available in normally-open 3-wire DC PNP and NPN configurations, and can be purchased with an M8 wiring connector or 3-meter integral cable with wire leads. Mounting bands with adapters for round body cylinders are available ranging from 1/8" to 4" sizes. For more information visit To learn more visit <a href='http://www.automationdirect.com/cylinder-switches'>http://www.automationdirect.com/cylinder-switches</a>
View hundreds more available videos online, with more being added each month...
..