This version of Internet Explorer is
no longer supported by Microsoft
, and some features of our store will soon no longer be supported by this version of IE.
Please
upgrade
or use a different browser.
We are currently experiencing issues when searching or navigating to products in our Motor Controls Category. These products can still be ordered by typing the part number directly into Add Items under the Shopping Cart. We apologize for the inconvenience and are actively working on a solution.

D32100DT-MC - Related Videos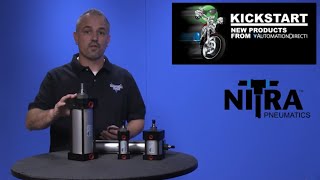 NITRA NFPA Cushioned Pneumatic Air Cylinders KickStart
(VID-PN-0002) - AutomationDirect's NITRA® pneumatic product line now includes D-Series double-acting heavy-duty air cylinders ideal for use where abusive conditions exist. These pneumatic air cylinders have a 250 psi operating pressure and are interchangeable with other popular brands. New models are now available with adjustable cushions to provide end-of-stroke deceleration at both ends.
View hundreds more available videos online, with more being added each month...
..